I did a blog post of My Favorite Things: Our Favorite Baby Items For the Farm and was then asked to follow up with a newborn edition so here it is!
These are my five must haves as a mother of a newborn. There are a few recommendations for nursing mom here to. Now I am not a newborn or baby expert but I am a mom of two – Nora (age 2) and Landon (2 months) so I do have good experience in this area. Both babies were born in mid-September and we went through some of the newborn stage in the beginning of winter so I highlight one important item there the car seat cover.
A few quick disclaimers. I am not compensated by any of these companies for my reviews or suggestions. They don't even know I exist except that I spent money to buy their products and continue to recommend their products to friends! However, some of the links are affiliate links through Amazon. An affiliate link means if you purchase the item through the link I supply I may get a very small compensation from Amazon. Let's be honest I buy nearly everything from Amazon. I don't have time to shop so I am making it convenient for you by offering these links to the products, I am not doing it to make money.
Rock 'n Play Sleeper – We had a Rock 'n Play Sleeper from the start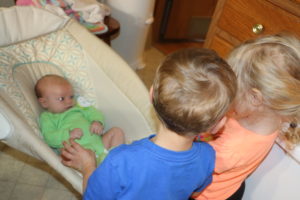 of our parenthood experience. This item was recommended to us and I think my sister ended up buying it for us since we don't have a ton of room in our house and she knew we could use this for sleeping and lounging with baby #1. We could not live without this! Both babies slept in this for months and spend some of their day in it as well. If someone were to remove this item from my house I would not sleep and be very upset. LOVE it.
Baby Carrier – Along with expanding my heart with baby number two it also means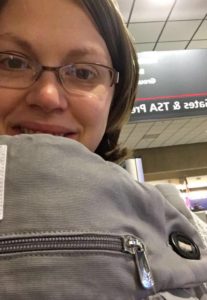 my hands our always full! I personally LOVE LOVE LOVE my baby carrier. Everyone has their own favorites but I highly recommend the Ergobaby Four Position Carrier as the all around winner! This carrier can be used for an infant with the infant insert and can be used for a toddler up to 33 pounds. I love any Ergobaby because they are comfortable to wear your baby for hours on your front or back while doing farm chores, walking through an airport, hiking or even shopping. It really is versatile and as a mother and farmer I got the most use out of this one item.
SleepSack – We love Halo SleepSack. Now neither of our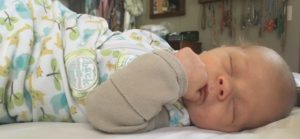 babies appreciated being swaddled but we used the Halo SleepSack Wearable Blanket once these fit and they made nightime diapers changes quick and easy and the babies were warm when going to sleep.
Car Seat Cover – We also loved the JJ Cole Car Seat Cover for the winter months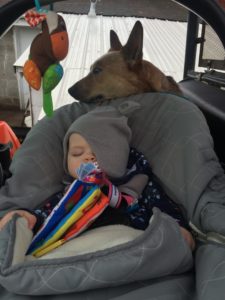 and will use it again. This kept baby warm in the cold months and didn't require excessive clothes which are not safe with carseats.
Stroller – While you want to hideout in your house as much as possible for the first month it's not practical and you have to get out. I love having a stroller that I can snap my car seat into therefore not interrupting the baby's sleep and making the travel process easy for everyone. We have a Graco SnugRide Click Connect 35 Infant Car Seat so I love my Graco Snugrider Elite Stroller and Car Seat Carrier or Graco Breaze Click Connect Stroller. I got the Graco Snugrider Stroller when pregnant with Nora and purchased the Graco Breaze when she was a year old and we need a lightweight stroller for travel. If I was buying again I would just buy the Graco Breaze because the car seat snaps into that as well!
Nursing Moms– I have three must haves. Two new favorites that I spent money on during my second pregnancy were Stretchy 4-in-1 Carseat Cover/Nursing Cover and Bravado Body Silk Seamless Nursing Bras (Amazon link here). The Nursing Cover is so much handier than a nursing apron and your backside is always covered with the nursing cover as its more like a shawl. And the Nursing Bras well those are necessary, I wore uncomfortable cheap bras while nursing baby #1 for nearly 8 months. I was miserable and uncomfortable. These bras are comfortable, soft and well worth the money. Another good thing for a first time nursing mom is the Boppy Nursing Pillow. I used mine constantly with Nora and used it for positioning as she got bigger too. I now use it again for nursing with Landon and love the comfort it provides with nursing. The Boppy isn't just for nursing moms though, great for positioning the baby as well!
What were your favorite items for your newborn?! Look at these blog posts from fellow dairy farmers and moms Dairy Carrie and Messy Kennedy for their baby favorites!