My mom and I have made this recipe for over 15 years and love it as much as we did then. We love the simplicity and deliciousness of this recipe and it tastes like a pumpkin roll without the hassle of rolling it! (I'll share our pumpkin roll recipe too soon.)
As a dairy princess this was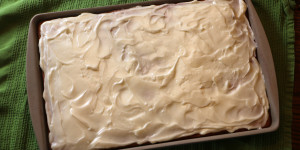 my go to recipe to share with newspapers or news outlets as it uses BUTTER and CREAM CHEESE!
I thought this recipe was fitting as yesterday was National Pumpkin Day! ENJOY and please enjoy more than one piece!

Frosted Pumpkin Spice Bars
Author:
Renée Norman-Kenny
Ingredients
Pumpkin Spice Bars:
3 eggs
1¼ cups sugar
1 can (15 oz) pumpkin
¾ cup melted butter
1½ cups all-purpose flour
2 teaspoons baking powder
2 teaspoons ground cinnamon
1 teaspoon baking soda
½ teaspoon salt
½ teaspoon ground ginger

Frosting:
1 stick butter, softened
1 package (8 oz) cream cheese, softened
2 cups confectioners sugar
1 teaspoon vanilla
Instructions
Pumpkin Spice Bars:
Preheat oven to 350º.
In a mixing bowl, beat eggs, sugar, pumpkin and butter until blended.
Combine the flour, baking powder, cinnamon, baking soda, salt and ginger together in a separate bowl.
Stir into pumpkin mixture until well combined.
Pour into greased jelly roll pan (15 in x 10 in x 1 in baking pan).
Bake at 350º for 20- 25 minutes or until toothpick inserted near the center comes out clean. Cool completely.
Frosting:
Beat frosting ingredients of butter, cream cheese, confectioners sugar and vanilla together until smooth.
Frost the cooled Pumpkin Spice Bars. Cut into the bars and ENJOY!