For my immediate family we have a relatively new "non-traditional" yet "traditional" for us Christmas dinner. French Onion Soup and Prime Rib! I honestly don't think it could get much better. I know this recipe isn't just a holiday recipe but it is simply one we enjoy at Christmas, along with any other day during the year!
Within my immediate family of my parents and siblings we have not celebrated Christmas on Christmas Day since I was in college, maybe even high school. It was no big deal for any of us since we were raised the children of dairy farmers and growing up we always had to wait until after morning milking and chores to open gifts. We were allowed to open our stockings without our Dad but that was it. We would usually head down to the barn to assist with calf feedings but I don't remember that always being a requirement or maybe I'm just getting forgetful! When Dad would come in from the barn we would sit down for Christmas breakfast and once our bellies were full we would finally get to open gifts. So Christmas for my family now is usually a few days after Christmas when we can all get home for the holidays. And I wouldn't want it any other way as we get to enjoy the time with each other!
This tradition of French Onion Soup and Prime Rib started after I graduated college but I can't recall how long we have done it for maybe 6 years. I really am getting forgetful! Before we share gifts with each other we always enjoy a delicious meal because what family doesn't love to eat! Since we had all just had ham on the real Christmas Day it is a welcomed change and a delicious one too to enjoy beef, soup and all the fixings!
As like any other holiday meal this meal takes a lot of prep. My mother spends time searching the local stores for the best standing rib roast and sometimes my dad even gets involved in the search. He likes to remind us that he took a meats lab in college and always knows the cuts of beef, while I took that same course several years later, I feel that he remembered a lot more of it then I did. My mom on the other hand was a Family and Consumer Science teacher (earlier in time it was known as Home Economics) and is an outstanding cook so she always knows beef and can cook an outstanding prime rib! I need to learn to cook one myself, someday, someday. So they always seem to find the most delicious and perfect standing rib roast.
My mom cooks the delicious and mouthwatering prime rib along with twice baked potatoes and steamed green beans. If you don't know twice baked potatoes you are missing out. They are baked potatoes with the fillings removed and mashed with cheese and sour cream and then put back in the potato skin and baked some more. Don't worry I'll share that recipe soon. And you better bet the steamed green beans are the ones with real butter and almonds, delicious! But the starter for the meal is almost always… French Onion Soup. I think we skipped it one year and realized our mistake and went back to it the very next year. Did I mention that we are dairy farmers? Not sure if you can tell with the excessive amount of butter and cheese! You better bet we celebrate a #DairyChristmas, it's just butter… I mean better that way!
It is also important to note that French Onion Soup can be made in a variety of ways – on the stove and in the oven like my recipe describes below, fully on the stove, or even in a slow cooker. Feel free to adjust the recipe to fit you and your busy schedule! I prefer the stove and oven method because I feel the onions caramelize nicer and it gives the soup a deeper flavor with the caramelized onions.
I just made this soup again this week because I knew I was posting this blog for #DairyChristmas  and had to taste it just to remember how delicious the is! And so don't I didn't drool as I posted this recipe! I'm not sure what my favorite part is, the onions, the broth, the bread or the cheese… ok it's the CHEESE! It's always the cheese!

French Onion Soup
Author:
Renée Norman-Kenny
Ingredients
1 stick butter
4 large yellow onions, sliced thin
2 cloves minced garlic
1 cup dry white or red wine, optional
6 cups beef broth
Worcestershire Sauce
French bread, sliced or cubed
½ pound Gruyere cheese, grated
Instructions
Preheat oven to 400 degrees.
Melt butter in a heavy Dutch oven over medium-low heat.
Add onions and garlic, cook covered, for 20 minutes.
Place soup Dutch oven pot into the oven with the lid on but slightly ajar to allow the onions to brown. Cook for 1 hour, stirring at least once.
Remove pot from oven and place on stove, before turning stove back on pour in wine. (If not using wine, skip this step) Turn heat on the stove to medium and cook wine for 3-5 minutes.
Add beef broth and Worcestershire Sauce, reduce heat to low. Simmer for 30 to 45 minutes.
Broil french bread either sliced or cubed over low heat, until golden brown.
When soup is ready, ladle into bowl. Top with bread and then sprinkle with grated Gruyere cheese. Broil until cheese is melted.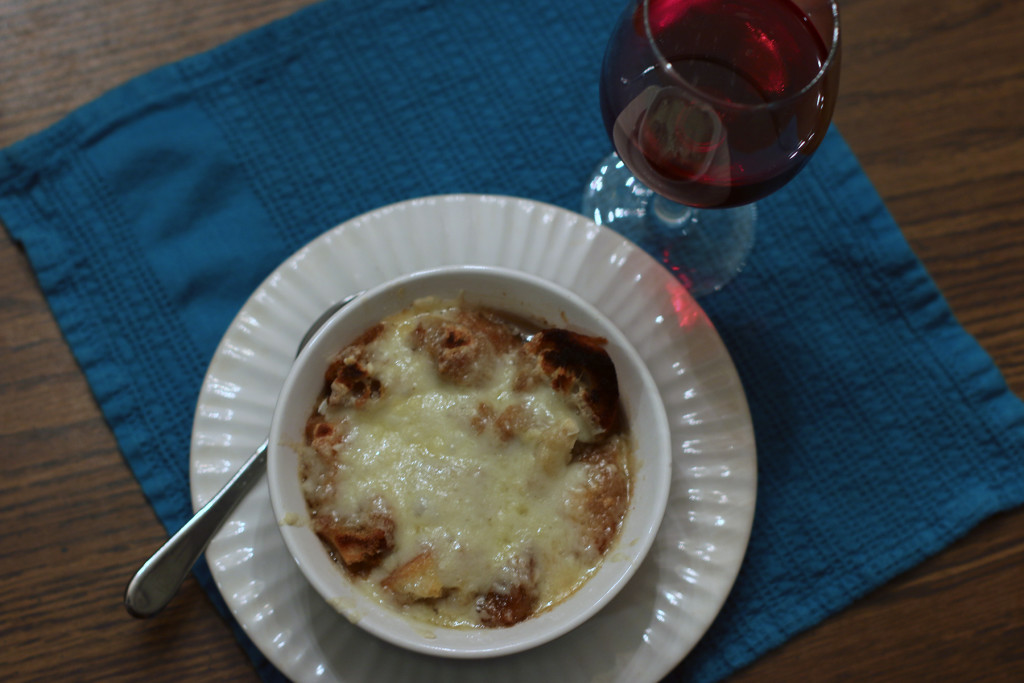 Find a few more #DairyChristmas recipes with the below links! Sixteen of my fellow dairy bloggers have participated in the #DairyChristmas. Have a #DairyChristmas this year and always!