These Eggplant Rollatini are heavenly! I never thought I liked eggplant until I started cooking with it four years ago after Clayton and I were first married. I made these and we were instantly hooked!
These can be served as a meal or as a side with a full Italian meal but I promise they won't disappoint unless you don't like eggplant then we will just pretend we didn't have this conversation! I will eat the Eggplant Rollatini as my full meal with a salad and garlic bread while Clayton likes My Classic Lasagna or Stuffed Shells paired with them to make the meal complete. It's not hard to make both since I use the same filling! These are a bit more labor than lasagna as you slice, bread and fry the eggplant but it's all worth it!
Eggplant Rollatini
Author:
Renée Norman-Kenny
Ingredients
1 large Black Beauty Eggplant or 3 Millionaire Eggplants
2 Tbsp. olive oil
2 cups flour
1 tsp. salt
½ tsp. black pepper
3 eggs
3 cups Italian Style bread crumbs
15 oz. ricotta cheese
2 eggs
¾ teaspoon salt
½ teaspoon black pepper
¾ cup grated Parmesan cheese
2 cups shredded mozzarella cheese
1 qt. jar spaghetti sauce (I use my own homemade canned sauce, you can use your favorite sauce)
½ cup mozzarella cheese
Instructions
Prepare the eggplant into slices by trimming the stem and end from the eggplant. You can remove the peel if you would like, I personally prefer to leave the peel on the eggplant. Slice the eggplant lengthwise into ¼-inch thick slices using a knife or mandolin slicer. I dispose of the first and last slice which is all peel.
Place slices in a colander and sprinkle generously with coarse salt and let drain for 30 minutes. Rinse under cool water, drain and pat dry.
Get your breading station ready by placing out three bowls. In the first bowl mix flour with salt and black pepper. In another bowl beat the eggs. And in the last bowl place the Italian Style bread crumbs.
Heat large skillet with 2 Tbsp. olive oil into a medium skillet over medium-high heat.
Dredge eggplant in flour, followed by egg and lastly breadcrumbs. Fry until golden brown on both sides, about 4 minutes. Remove eggplant to a paper-towel lined pan.
Preheat oven to 375 degrees F.
In a large bowl, mix the ricotta cheese, eggs, salt, black pepper, Parmesan cheese and mozzarella until well combined.
Pour 1 cup of the tomato sauce over the bottom of a 9x12-inch baking dish.
On a cutting board or tray lay one of the fried eggplant slices in front of you.
Spoon about 1 to 2 Tbsp. of the ricotta filling over the narrow end of the slice and roll into a compact roll and place seam side down in the prepared baking dish.
Repeat with the remaining eggplant, placing the rolls side by side.
Cover tomato sauce over the eggplant rolls and top with ½ cup mozzarella cheese.
Bake for 30 minutes covered and uncover for the last 5 minutes. Bake until bubbly and hot.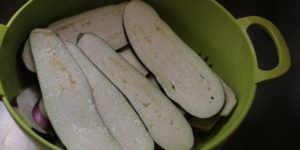 The sliced eggplant salted and draining the water.This is necessary as eggplant will release water as it cooks.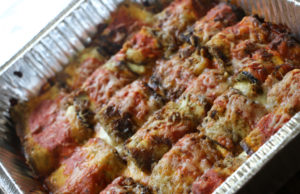 The completed pan waiting to be devoured!