Welcome to Eat Farm Love! I am Renée, a woman of many hats – dairy farmer, farm wife, mother, home cook, food lover, and graphic designer. I decided to add one more job to my list recently when I decided to start blogging.
Why did I decide to blog? No, not because I love attention, that I certainly do not like. I decided to blog to help bridge the gap between farmers and consumers. It is so important to know where and how your food is produced and why farmers follow the practices we follow. So I hope you enjoy following our journey on this farm life we LOVE!
Coming up with a name was a challenge! After months of agony I finally decided on Eat Farm Love. Yes, the name idea come from the book and movie "Eat Pray Love." I do not mean to replace the word Pray for any reason other than to create a blog name. This name symbolizes alot and has several different meanings for me. I love to Eat and love to Farm and love to love! The words Eat and Farm also play apart together as without farms there would be no food to eat. Funny how that works!
Now a little a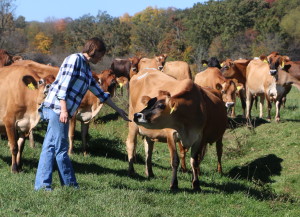 bout me and my family!
First and foremost I am a dairy farmer! My husband and I own and operate a 200 cow Jersey dairy farm in western Pennsylvania, about an hour north of Pittsburgh. I grew up on a Jersey dairy in north central Pennsylvania and am proud to say that farming is in my blood. Growing up I valued all the time I spent at the barn with my father and because of that I LOVE farming, our cows and this life. My husband Clayton, grew up on the farm we farm now and we farm along with his grandparents watchful eye.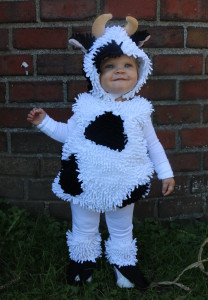 Secondly, I am a food lover and a pretty good home cook thanks to my mother! And let's just say that Clayton eats pretty well in our house. I am from two large FARM families so cooking and food was always important and the same with Clayton's family. We love to EAT good food and have been known to call ourselves food snobs a time or two. If you leave my parents house or any family gathering hungry you must have been talking too much and not focused on finding the FOOD! Ok, now I am getting hungry thinking about Grandma Arnold's Sweet and Sour Pork, Grandma Norman's Chocolate Chip Cookies Bars, Homemade Chicken Noodle Soup, any of my mothers desserts, and a Kenny favorite of Chicken Roll Ups. MMMM… I need to stop! I'll not only share my favorite recipes with you, but I hope to show you where and how your food is made.
To stop thinking about food, I better explain the designer aspect of my life. In my "prior life" I was a communications specialist for a cattle genetic company and assistant editor at a cow breed magazine. After leaving those jobs to get married and move to this farm, I started a small graphic design business to keep my passion of design, communications and photography alive. I have enjoyed making logos, invitations, websites and even doing some photography work through my hobby! Contact me if you have any design needs! I also am semi-crafty and make wooden signs and vinyl gifts as well. Just ask me to see more!
Lastly, but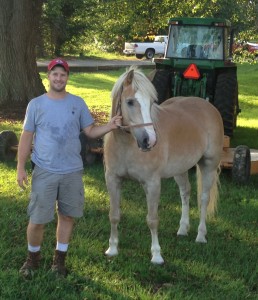 certainly not least, I am a relatively new mom. We welcomed our first child, a girl, Nora, last September. We just celebrated her first birthday and she's an absolute blessing, joy and LOVE of our lives. She is a spitfire and takes after her father with causing trouble and getting into everything. She is certainly a FARM GIRL and loves ALL animals. Already I think we have high hopes of her becoming a veterinarian, farmer, or maybe just a cat hoarder! (Yes, she is a cow for Halloween! What else would a dairy farmers child be?!?!)
My husband is a dairy farmer and crop farmer. But more than that he's an animal caregiver, agronomist, risk taker, mechanic, plumber, electrician and an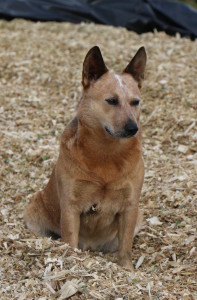 overall fix-it man! And he's my partner in this blessed life we live.
There is no more critical individual I am missing from our family. That is our lovable, cuddly, licking dog, Emory. Em Dog is a red heeler (Australian Cattle Dog) but lacks in the herding cattle area of her life. She seems to herd the cows when we don't need them herded. However, she is an awesome big sister to Nora and loves that child like her own. Clayton always says that Em is a lover and not a hater.
So follow along with me on my journey as a dairy farmer, farm wife, mother, home cook, food lover, graphic designer,and now a blogger! I guarantee there will be tons of photos of cows, funny stories and photos of our child, I'll share recipes of Good EATs that we enjoy, and hopefully you will learn about me and the family I LOVE, our FARM and agricultural along the way. Welcome to our farm life.
I hope you enjoy getting to know our family and our farm! Please feel free to contact me with any questions or concerns! I would love to hear from you.