When I was eight I entered our county fair's Hershey's Cocoa cookie contest and shockingly I won! I feel like I need to thank my Mom for that! At eight I'm sure I wasn't baking alone! I won with a Chocolate cookie with a pecan on top with chocolate drizzle. Here's a picture to prove this in case you don't believe me. I also won the contest again at age 18.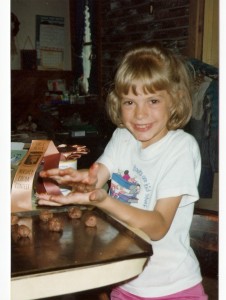 I feel like this newer Chocolate Caramel cookie is a step up from my first "famous" Chocolate Pecan cookie! This year I made this cookie for a cookie exchange and won "most creative cookie." We are also enjoying this cookie among the rest of our Christmas cookie selection in our home and I am noticing that these are dwindling quicker than the rest. I hope this makes it into your cookie baking list this year and if not this year it's a must for next year! Have a Dairy Christmas!

Turtle Cookies
Author:
Renée Norman-Kenny
Ingredients
Cookie Dough:
1 cup flour
⅓ cup cocoa powder
½ teaspoon salt
1 stick unsalted butter, softened
⅔ cup sugar
1 large egg, separated, plus 1 egg white
2 tablespoons milk
1 teaspoon vanilla extract
1½ cups pecans, chopped

Caramel Mixture:
15 soft caramel candies
3 tablespoons heavy cream
Instructions
Preheat oven to 350 degrees F.
Combine butter and sugar with an electric mixer until it is light and fluffy about 1 to 2 minutes.
Add egg yolk, milk and vanilla and mix until combined.
Combine flour, cocoa and salt in bowl and mix. Add flour mixture and mix until just combined.
Wrap dough in plastic wrap and refrigerate for 1 hour until firm.
Whisk the egg whites in bowl until frothy. Place pecans in a second bowl.
Roll dough into 1 inch balls, dip in egg whites, then roll in pecans.
Line baking pans with parchment paper.Place cookie balls on the baking sheet.
Using your thumb or a ¼ or ½ teaspoon measuring spoon, make an indentation in the center of each cookie ball.
Bake cookies until set, about 12 minutes.
Microwave caramels and cream in bowl for about a minute. Mix and if needed, microwave another 30 seconds until smooth.
Once the cookies are done remove from oven and softly press the indentations on more time.
Fill each with ½-1 teaspoon of the caramel mixture.
Cool 5-10 minutes and transfer cookies to a wire cooling rack.