Today, July 21st, marks Clayton and I's four-year wedding anniversary. Within those four years I moved to the farm, we began farming as partners with his grandparents, obtained our first joint dog, had a beautiful daughter, will welcome a mystery child in September, purchased the cattle and equipment from his grandparents leading to farming on our own, have created a welcoming home and gardens, and have both gained some weight. 😉
© Heather Mee Fotografee & Design      heathermee.com
As I laid in bed unable to sleep once again from 3 a.m. on this morning I reflected on all of the joy and struggles we have dealt with. For me to think that all of this has really happened within a mere four years is hard to grasp. I feel much older than four years from the day we said our vows, but in some ways the days and years have flown by.
There has been more joy, heartache, laughter and struggles than seem possible for a short four years. There have been more pregnancies (yes just the two) and there has been large purchases and hard financial decisions. But with each of these I feel blessed to have had the opportunity and I hope that I will continue with these opportunities from here on out.
Clayton is more than just a spouse, he's my partner in life, business partner, my co-parent, my co-farmer, and the one who can make me laugh after a hard day. And someday, maybe tomorrow we can celebrate our anniversary but today was simply a normal farm day! Happy Anniversary, Clayton!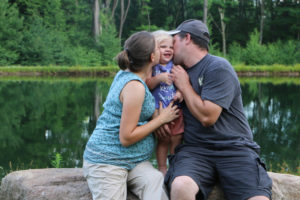 The beginning of this month we got to take a quick photo of us in the same place we were married.