During prime garden season I usually get tired of zucchini but this year I whipped up this pasta recipe from scratch without a recipe in hand and it was a welcome addition to our zucchini meals! Within four days we've had it twice since we liked it so much and because we have zucchini growing out of our ears!
You could add any garden vegetables to this pasta but I would suggest always leaving the zucchini, onion and tomatoes in the recipe as that's what I always leave in. The first time I made it I just had those three veggies but the second time I added the peppers and loved the sweetness it gave the dish. I would like to add some spinach but I am in-between spinach growings right now so that will have to wait.

Garden Fresh Fettuccine Alfredo
Author:
Renée Norman-Kenny
Ingredients
1 lb. fettuccine
1 Tbsp. butter
1 Tbsp. olive oil
1 small zucchini, about 2½ cups, diced
1 small onion, diced
1 yellow pepper (can use your choice of pepper), diced
1 cup grape tomatoes, ½ pint container, cut in half
1 pint heavy cream
salt and pepper
2 cups grated Parmesan cheese
fresh basil and parsley
Instructions
Bring a large pot of salted water to a boil. Add fettuccine and cook according to package instructions until al dente; drain; and set aside.
In a large skillet on medium heat, heat butter and olive oil and saute zucchini, onion and pepper for 3 to 5 minutes until the zucchini becomes golden brown and the onions and peppers soften. Add grape tomatoes and saute for 2 minutes until soft.
Reduce heat to low and add cream to sauteed vegetables. Add salt and pepper to season.
Stir in Parmesan cheese over and stir until melted. The cheese will thicken the sauce some.
Add the pasta to sauce in skillet and toss gently to coat pasta. (I usually add ¾ of the pasta and toss. Then check if more pasta is needed so that the sauce is used but too much pasta is not used.)
Top with fresh chopped basil and parsley, serve immediately and enjoy!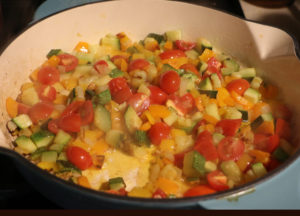 Here is a photo of the vegetables as I was sauteing them before I added cream.