When I asked my husband what we were thankful for he responded with "the fact that we have a small dog." So today I am thanking the animal that is currently licking my feet and attacking my husband with her tail.
If you had asked me four years ago if I would ever write a blog post about a dog, I would have answered with a heck NO. Maybe a blog post about how much I hated them. Look I love animals, but dogs were not one of them. I hated how they would sniff me or bite me, how their dog hair would stick to you, how they would try to climb on you when sitting down and how they instantly knew I hated them!
BUT that all changed when I married my husband. He came along with a dog named Daisy. Daisy was a 185 pound bloodhound with a 34 inch "earspan". She was twice the size of a Jersey calf and then some. Daisy and I grew to have an understanding that her home was at the barn and that I would love her there and only there. But then suddenly in December, she got very sick and our veterinarian told us the bad news that there was nothing we could do to save her. She died just before Christmas and we were on a mission to find a new dog to fill the void.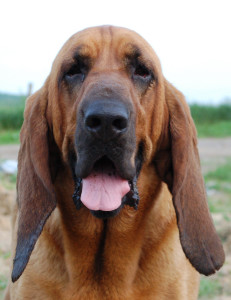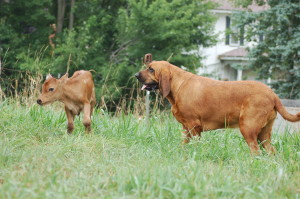 Just after the New Year we learned that a fellow Jersey breeder had some Blue and Red Heeler (Austrailian Cattle Dog) puppies for sale and we went to take a look. We came home with the puppy that licked us the most and named her Emory (yes we got the name from a famous Holstein bull, remember I did work in the cattle genetic industry for several years and loved the name). Emory has not stopped licking every since! We have a sign our barn door as a warning that a Red Heeler lives here but that is more a scare tactic as she is mostly a lover and not a hater. She can hate sometimes but it's mostly a show. Emory loves our daughter Nora, loves hogging the bed, loves tractor or Kubota rides, and loves Clayton so much that she is his shadow.
So today I am thankful that our dog, Emory, is not as large as our first dog, Daisy, and that she is a gentle, lovable dog who loves children! And it doesn't hurt that she is pretty cute!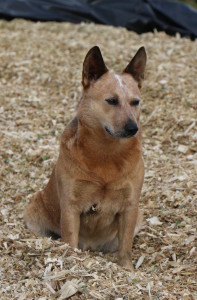 During the month of November I will be blogging with a new thanks each day! Follow along by seeing all the posts under the menu option "Farm Love" and then "30 Days of Thanks."