Not long ago one of my dear friends asked me what my favorite kitchen tools were. I honestly didn't know what to tell her. I had a few must haves that instantly popped into my mind but I had to think about it a bit more to decide on the rest.
Luckily as a frequent cook and baker I have several of my favorite items listed here. And who knows maybe you will get inspiration for a Christmas gift this year. Or maybe you are registering for your wedding and if so add these items today!
Mixer – Admit it who doesn't love their Kitchen Aid mixer (if you are lucky enough to have one). Mine is wonderful, beautiful and and is used nearly everyday! This bad boy is also great as you can use attachments to the mixer including a shredder, juicer, pasta maker, ice cream maker, and so on.
Silicone Baking Mat – These silicone baking mats are a new favorite to my list! These baking mats are great for baking cookies and were a breeze to use during my Christmas cookie baking fest!
Kitchen Utensils –  I have several favorite kitchen utensils. I love both the Bamboo Specialty Spatula Set and Bamboo Spatula Set from Pampered Chef. I use the spatulas daily for browning ground beef, making a stir fry, or really anything at all! Classic Scraper and Mix 'N Scraper are perfect for baking, mixing and scraping down the bowls. Any size cookie scoop is a must with Christmas approaching they are available in Small, Medium and Large. As you can see I do love Pampered Chef for all my utensils. I've had many items for 10 years or more and they are all in great shape still. Find a local consultant to you and find out what other goodies they have! I feel like I should be selling it with all these products I just recommended. My mom told me if she was stranded on an island she'd need her whisk and spatula and I am indeed like her with my baking utensils.
Stoneware – I love using our stoneware for baking a pizza with the Pampered Chef Pizza Stone or baking bar cookies in the Pampered Chef Large Bar Pan.
Mixing Bowl – Everyone needs a good set of mixing bowls. I have these Stainless Steel Mixing Bowls for all my mixing, storing and even freezing needs. I also LOVE my Classic Batter Bowl for baking and mixing.
Crockpot – As an on the go family a Crock-Pot is one of our must haves. I use it at least twice a week if not more and love having meals ready when we come in the door.
Don't think that only the ones I listed are the good items, there are tons of items for your needs and price range if you look around. I am simply giving you A FEW OF MY FAVORITE THINGS! And yes I sing the song from The Sound of Music every time I say that.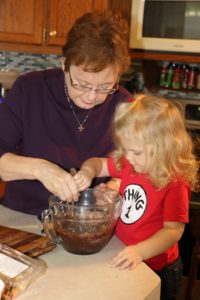 A few quick disclaimers. I am not compensated by any of these companies for my reviews or suggestions. They don't even know I exist. However, some of the links are affiliate links through Amazon. Let's be honest I buy nearly everything from Amazon. I don't have time to shop so I'm helping you out too. An affiliate link simply means if you purchase the item through the link I supply I get a small compensation from Amazon. I only signed up for this when I started My Favorite Things series.