Well it seems like we were all having a case of the Mondays yesterday. When I say all I mean the equipment, cows, and people! 
In the morning we got an early call from the morning milkers that the pump on the receiver jar (a large jar that holds the milk before pumping it into our milk tank) was acting up again. That means milking was out on hold. It had done this last week too but was a quick fix. After running Nora to daycare and getting back to the barn to print off and email a few farm files for review, I checked on the employees and pump and saw the local dairy equipment repair man hadn't come yet. I thought it was odd but I needed to get office work done for my new and exciting job so I headed home to get to work. (I try to work 3 days a week from home between this job and graphic design.) About 10:30 am Clayton texted me and said the repairman still wasn't there so he called him and learned our grandfather told the repairman it was no emergency and we were done milking. Ehhhh, we were not. We still had about 130 cows to milk who were just hanging out waiting patiently to be milked . Facepalm #1.
Face palm #2 came when I was notified at 12:30 pm that the milking would not be done until about 2 pm by the time they cleaned up the milkers and parlor and got the other chores done they needed to. So I was asked if I could "whip up" lunch real fast. Yes my husband asked me that. I was not planning on making lunch today!!!! I was currently on a 1 hour conference call and had tons of work to get done. I didn't have the time today! But for the sake of "the guys" I "whipped up" lunch because it's that easy you know.
Face palm #3 came when I realized it was 3:45 pm I had to get Nora in 15 minutes but wanted to get more work done before she destroyed my already messy office . Clayton thankfully ran for her while I finished up a project. Then when he brought her back we shared an ice cream cone while she ate the majority of it on my lap at the computer. She was entertaining herself and didn't feel the need to share. I then ran to pick up a newer employee and was late getting him as well. Pretty much our whole day was off at this point. 
Face palm #4 came when we discovered once again that a milker we have been having problems with was once again shortcutting his job and not doing what we asked of him. As business owners and farmers employee management is one of the most difficult parts of our day. 
Clayton and I arrived home within minutes of each other as one came home from the farm and one from the field. I put Nora to bed late after 9 pm and together Clayton and I went out to work in the raised garden beds. And between these two simple things it made the day all better. I was able to love my daughter and was able to work beside my husband like we do each day. The case of the Mondays washed away until I realized we hadn't eaten dinner yet and I had to "whip up" another meal at 9:30 pm. Sigh.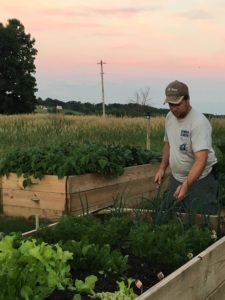 I'm glad it's Tuesday and that we are hopefully not going to have a case of the Tuesdays! Well that's not the case because it's pantless Tuesday here…